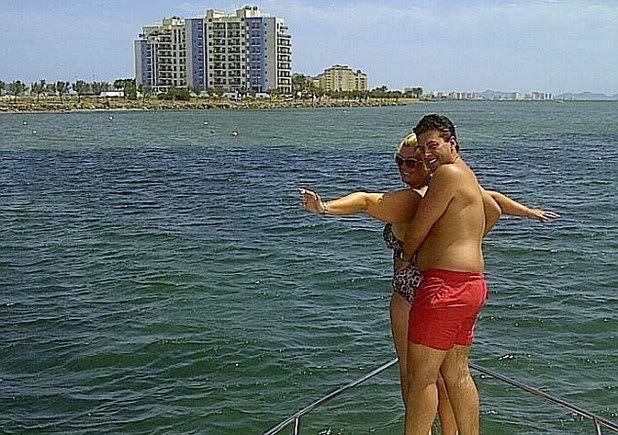 No words.
TOWIE is back on
ITV2
tonight for it's 6th series (yes SIXTH) and what are we in store for? Well, Arg and Gemma are a couple now, even after that "You'll never get this candy" (hurl) parlava at
Marbs
. I personally can't stand either of them, they are both using each other to get as much money off of this "relationship" as they possibly can. I can guarantee there will be an argument in tonight's episode and we will be left thinking "Have they broken up??" But we won't care. They've already "discussed" marriage but so what? I've been known to discuss bungee jumping, it doesn't mean I'm going to dive off a building anytime soon. Together they are sure to be the gruesome twosome and I have this horrible feeling this series will all be about
them
. If you ask me (and why wouldn't you?) Lydia is better off without that complete waste of space Arg. Tom seems like a really nice guy, and they are much more suited than Tom and Billi (or is it Cara? Those two are inseparable. I mean the one who's not his sister).
Jessica and Ricky are also officially a couple, but Jess has said that they have no interest in becoming "the show's biggest love story." What shall we give it? One episode before she is moaning about the lack of airtime probably given to Gemma and Arg? I think so. But she might be too busy for TOWIE as she has her music career to think of…
My favourite bit is when she comes out the water with her mascara running.
We've also had the news this week that Georgina will not be returning to Essex. Let's be honest, she was hardly in it anyway and when she was she wasn't interesting. Her not being at Marbs probably meant that the writing was on the wall with that one.
ITV2 have released some promo photos for the sixth series and in the main photo (below) I thought there were so odd absentees. Where's Sam, queen hanger-on of the most eligible bachelor of the show (whoever he may be)? Why isn't Lydia, Jess or even Lauren G there? No room for Gemma? Who thought it would be a good idea to put Mick in the photo? Maybe you should have put in Nanny Pat as well. And by the look of it, someone has made Joey Essex the leading man. A very random cast photo that one.
Who let Mick in?
Lots of stuff has kicked off behind the scenes, let's hope for some fireworks on screen. And maybe some fun new characters too.