So
no more twirly chairs
, here we are on to the Battle Rounds. It's a bit like Judges' Houses but with the judges and Battle Advisors actually being constructive. Tom Jones has Cerys Matthews from Catatonia, Jessie J has Ana Matronic from Scissor Sisters, Paloma Faith is advising Danny O'Donoghue and will.i.am is with Dante Santiago. Who's he then? A friend of will.i.am's and was part of the Black Eyed Peas in the early days. The Battle Advisors are interesting choices; chosen for their musical ability over their fame. I'm pretty sure you wouldn't see Paloma Faith helping out Tulisa on X Factor.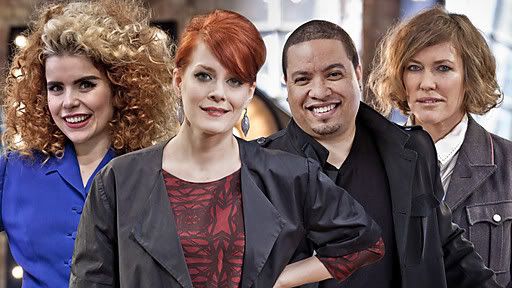 How does the Battle Round work then? Each judge chooses 2 of their team and one song, they then sing the song together (in a boxing ring) and the judge chooses who they want in their final five.
First to face the ring was Jenny and Joelle for Team Will. For me, it was an easy choice; Joelle really was fantastic. I said she
stood out to me in the Blind Auditions
so was glad to see her through. We then had a battle from Danny's team; Max vs Bill. Both were great but I have to say I was pretty surprised Danny chose Max. He had a bit of Olly Murs (maybe it was just the hat) but I defiantly think that was a mistake. To be honest, most of the others were pretty easy decisions.
Tom chose Sam Buttery who I adore. Great hair, bad shirt, big voice. Jessie J also made a good choice in Toni. Some of the acts singing together seemed like odd choices; maybe they just wanted to get rid of one of them. Danny choosing Bo vs Vince was bizarre; I liked Bo's voice but they didn't seem like direct competition with each other. And why was he not wearing any shoes? That looked more like the thing Bo and her Bohemia look would do.
Will had to chose between Jay and Jaz which seemed a forgone conclusion after all the hype last week and the fact he sang two songs. Ruth vs Denice (that of Five Star fame) had Tom all welled up, but he chose Ruth and I think made the right decision.
Will also chose Tyler, best friend of Amy Winehouse and Jessie chose Vince over Jessica. A slight surprise maybe as Jessica was the first auditionee and they all raved about her. Turns out she wasn't that special and Vince rightly went through.
So the teams are getting cut and the Battle Rounds seem like a success. I have to leave the last word to will.i.am as he talks about Jaz, "You got soul in a bowl. You got soul on a pole. You got soul that you don't know." Doesn't quite rhyme but you get the idea. See you on Sunday as the Battle Rounds conclude.