So at the half way point in the Blind Auditions let's take stock of the judges teams shall we? Tom Jones has 6 singers; a mixture of old and odd there are a couple to keep an eye on. Jessie J has 5; apparently she is looking for a standout girl. Danny has 4; he reckons he has a good foundation and most like to play the guitar. Will.i.am is falling behind with 3 so he's going to have to do some convincing to get some more members.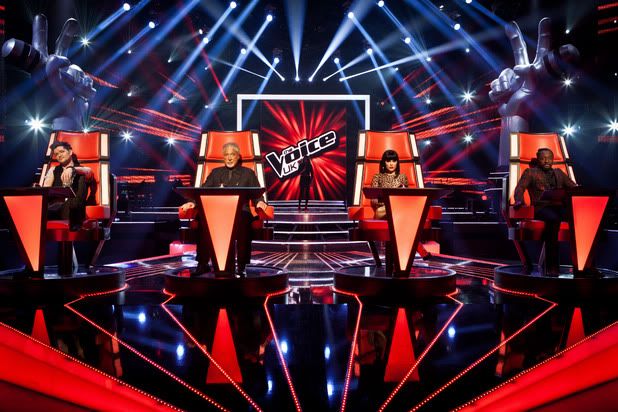 We start off this week with Joelle Moses; for me one of the best voices I have heard. She looks the part and all 4 judges wanted her. She plumps for will.i.am and think she has a great chance of getting to the live finals.
They have invited some really interesting contestants; Allyson Brown won a MOBO in 1998 for Best Unsigned Artist. I was very surprised no one buzzed her. She had a beautiful voice but then maybe because I knew that about her that would have been part of the reason I would have buzzed. And that's not what The Voice is about.
I am surprised some contestants get buzzed while other (better) singers don't. I know they must be looking for something in particular, something they can work with but a contestant called Leanne got buzzed and she was one of the first I can think of that they have critiqued. Okay, not a bad thing but there have been better singers to leave, that's for sure.
We had another 'I kinda, used to be famous'. His name was Cassius Henry and he has toured with R Kelly, worked with Kanye West and even appeared on Top Of The Tops (charting at number 33). He was right up Jessie J's ally and I think they will work really well together.
There was still a bit of X Factor sob stories when young hipster Kate Read said she was singing to her Mum because she loves her whatever size she is. Well, she is your Mum. Her voice was defiantly different, she reminded me of Diane Vickers; the way she sang 'colours' was very weird. Not my cup of tea but at least she stood out.
Ruth-Ann St.Luce caused a bit of a stir. Jessie J chose her and will.i.am basically laughed in her face. We didn't get to see the whole performance but you could tell she wasn't at her best. Tom Jones and Danny were even joking that she wasn't even singing in the right key. But Jessie J saw something in her, I just don't think the other judges did.
There were a couple of other notable contestants; we had Nathan James a man who looked like Thor and wanted to be a rock god. Unfortunately rock music never fairs well on reality TV, just ask Jamie Afro, so he went home with no buzzes. Bo Bruce was a girl who thought she was always judged on her name (her real name did seem quite posh). I thought she sounded like Dido but I really liked it; another one who could go far.
One of the last contestants was a guy named Tyler James. He was Amy Winehouse's best friend. Good voice but I'm not too sure on him. We'll see when we get to the Battle Rounds. He was also present when Tom Jones gave his 'Name Drop of the Week'- he knew Otis Reading.
So, third week down and the teams are shaping up nicely. Tom, Danny and Jessie all have 8 members and Will has 7. The competition is hotting up and next week we will see their final teams.
It's getting exciting, bring on the battles!