It can't just be me who thinks Britain's Got Talent has been really disappointing this year. Battles in the media with The Voice, some really mediocre acts, loads of hash tags, Amanda Holden; are we over Britain's Got Talent?
The only shining light is David Walliams- he is perfect for BGT. Makes he think why didn't they have a comedian from the beginning? Michael McIntyre was good last year but this job was made for David. He seems to be the only judge who doesn't give a toss what Simon Cowell thinks.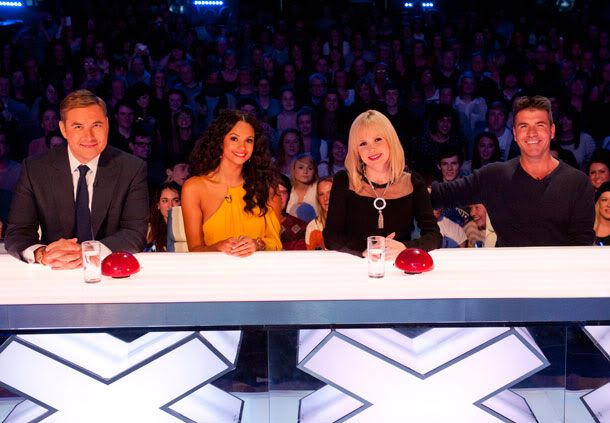 So, I've come up with a few suggestions on how to improve the show:
1. Get people on the panel who have something to say.
Why do the women on BGT always come across as dull? Amanda Holden is truly the most insipid person on panel shows at the moment. She has nothing to say and always looks to see what face Simon is pulling before deciding what she thinks of each act. I hated Piers Morgan but at least he had his own mind and said what he thought.
I like
Alesha
Dixon but she is just a void. And I thought The Hoff was bad.
2. Get rid of Stephen Mulhern.
I'm not sure why, but this guy just doesn't belong on even ITV2. He thinks he's as good as Ant & Dec; he's not. He's always on This Morning promoting BGT-I'm sure he's just doing all the crap And & Dec can't be bothered to do. The thing I hate, which I suppose I can't blame him for, is the fact ITV seem to be trying to make him into the next big thing in presenting. Why are ITV trying to find him shows? What the hell was that The Big Quiz:
Benidorm vs Essex he did on Sunday? It's just a massive
ITV
love in, I despise shows like that. Go back to doing magic; you were alright at that.
3. Give it a break next year.
Give it a year off, it might refresh it. It gives people a chance to miss it, and hopefully some more time for better acts to appear.
4. Talk less about other shows, concentrate more on your own.
Stop with these stupid media battles in the press, The Voice has beaten you at the minute. Suck it up and improve the show- get some good acts into the final, tell the judges to pull their socks up and have some constructive comments to say. David Walliams is naturally funny; Simon, Alesha and Amanda are not.
5. Decide what you're looking for
People always say "why are there singers in the competition?" I agree to a point, but Susan Boyle wouldn't have gone on X Factor would she? Neither would have Paul Potts. Maybe don't bother too much with the young, cute singers who obviously WOULD make the cut for Simon's other reality show. It just makes it boring. I want to see magicians, basketball acts and dance troupes. Leave the singers for The Voice and the X Factor.
These might work but of course, it maybe that we've just found all the talent Britain has to offer.